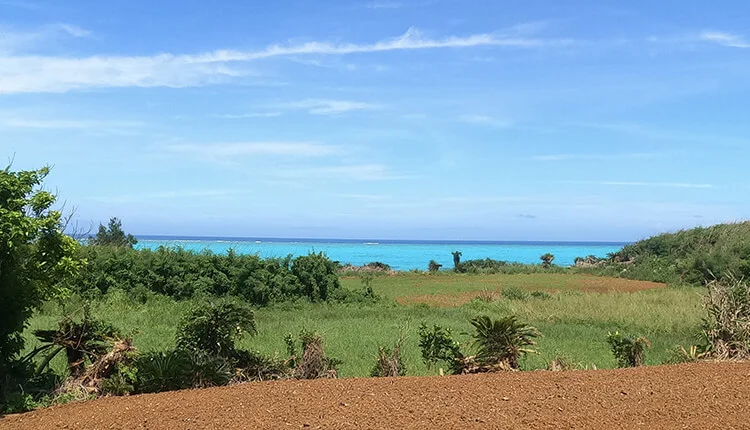 Body and soul satisfied with Yoron,And gain awareness.
The blue sea and the sky that fills your field of vision,
Yoron Island has healed the hearts of nature lovers.
Let the sound of the waves and the sea breeze wash over you,
and melt into the open sky.
Why don't you spend your days here in Yoron,
taking better care of yourself
and discovering a new you?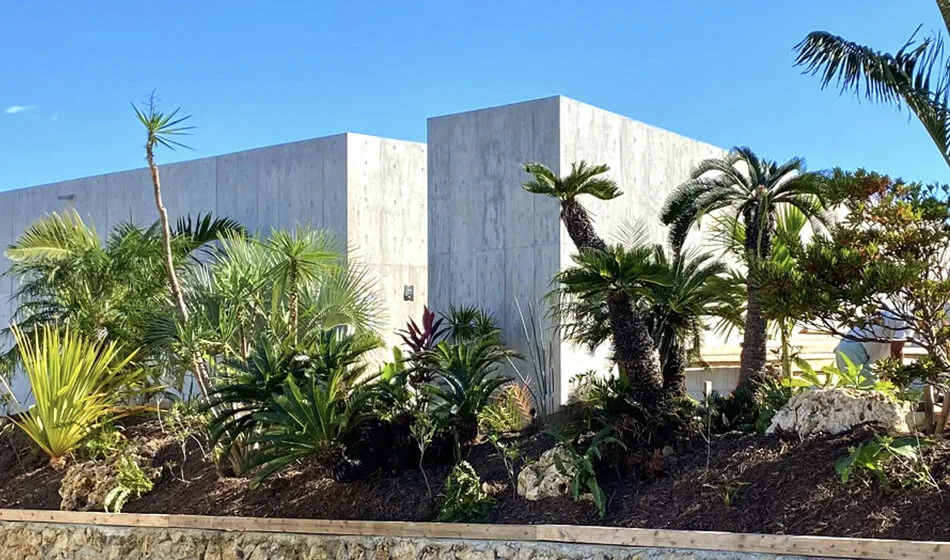 A place loved
by the community and customers
AMADA means "loved" in Spanish. We want to make a place loved by everyone and filled with the smiles of loved ones. We also hope to provide our guests with a superb AAA (Triple A) class experience. AMADA was born from such a desire.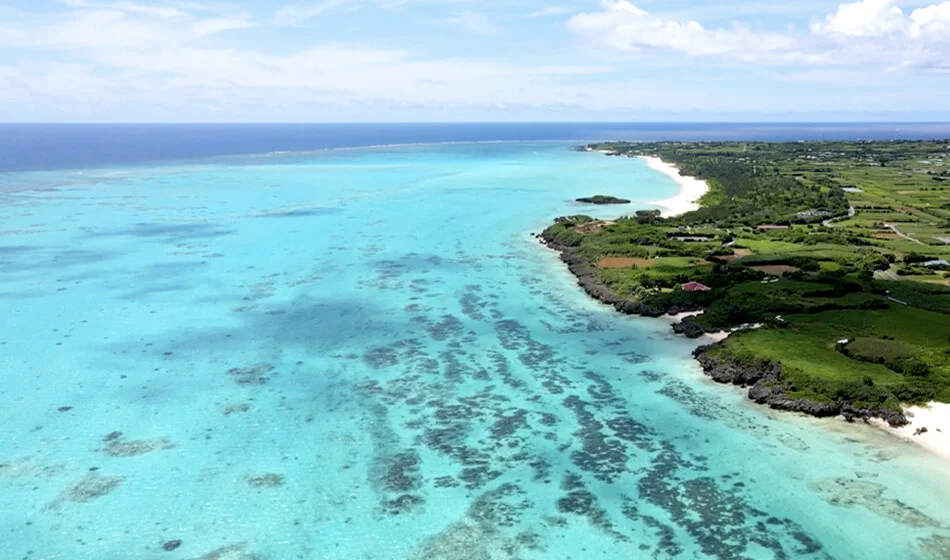 Emerald green of the Shinaha coast and wilderness
Yoron Island, where AMADA is located, is the closest island in the Amami Islands to the main island of Okinawa, about 23 km from the northernmost tip of the main island. The island is surrounded by beautiful coral reefs. All beaches on this small island are beautiful, but AMADA is located right in front of the top class beach, Shinaha Beach.
Workcation
AMADA promotes workcations for our guests.
You can work on your computer on the beach
or have a meeting with a projector by the poolside of the villa.
It will give you a chance to think of new ideas and rethink your working style.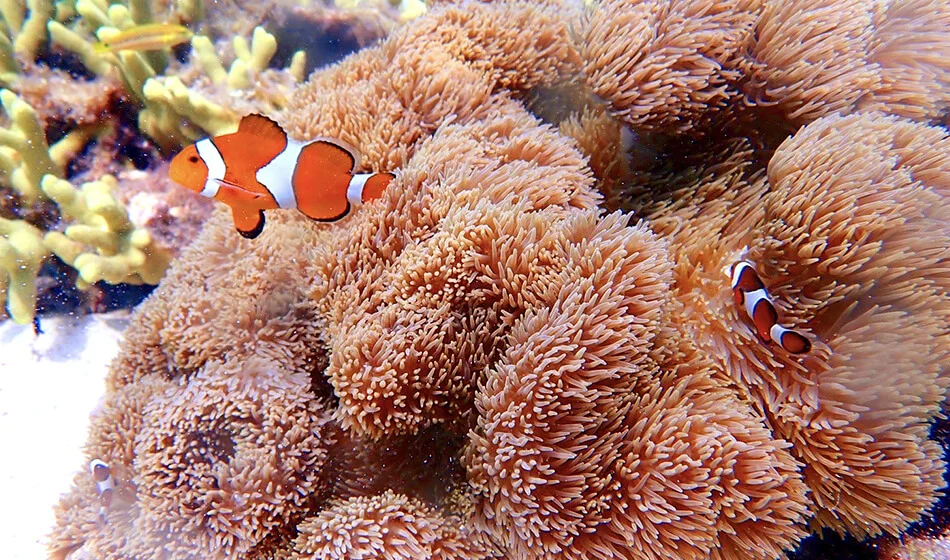 The beach for refreshment
The nearby beach is a 2-minute walk from the VILLA. When you are tired of working on your computer, let the sun shine on you and be healed by the sparkling ocean and the sound of waves. Let nature take over your body and remove your daily fatigue in an extraordinary space.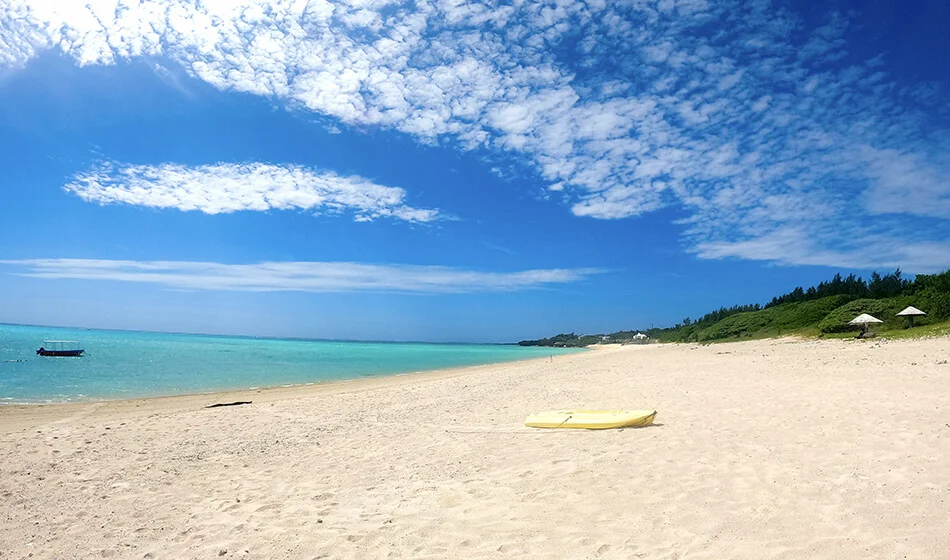 Anywhere on the island.
The place for workcation is not limited to the villa.
The facility is equipped with Wi-Fi so you can work comfortably. You can also do it in cafes or on the beach while touring various parts of the island, not only in the villa.
AMADA's service
01 Cactus sauna       

A genuine cypress-scented barrel sauna. Succulents visible from there. AMADA has prepared a space to prepare.
(Please select this option when making a reservation.)

02 Pool, screen and wine

The wine cellar has about 20 bottles of a wide range of wines selected by the sommelier, and you can enjoy wine and time while watching a movie on the large wall screen next to the pool. An extraordinary space will be waiting for you.

03 Private barbecue

Barbecue stoves are available for rent. Our staff will clean up when you are not here, so please feel free to use the stove. For information on restaurants, we have also prepared a booklet that provides information on nearby facilities.
Action to save yoron
01 Take advantage of the sun's energy as much as possible

Taking advantage of the good location with no tall buildings blocking the sunlight, solar panels are installed on the roof of the villa to generate electricity on site, which will partially cover the electricity used at the villa, thus contributing to environmental conservation.

02 Support for local health care workers

We are working with NPOs, Yoron Town, and the Tourism Association to provide this villa free of charge to nurses and their families working on Yoron Island and the Amami Islands through NPOs, with the aim of contributing to the local community by increasing the number of permanent residents and workers.
Sightseeing
Shinaha Beach

Emerald green sea with high transparency.
This spot is close to the downtown "Chabana" area.

Yoron Nature

Tropical flowers blooming all year round make you forget the concrete jungle of the city.

Chabana

It is the most prestigious downtown in Yoron Island.
Gourmet food unique to the island awaits you.
Lending service by neighborhood facilities
・Bike rentals – Segway rentals, etc. – Swimming rental items (floatation rings, etc.), etc.
○ Recommended Dining Spots
A cafe where you can spend a relaxing time. Café Coco
Chic café. Plate lunch and drinks are excellent.
Address: 2F, 229-11 Chabana, Yoron-cho, Oshima-gun, Kagoshima
Parking: Available
Business hours: 11:00-15:00
Holiday: Open irregularly
TEL: 0997-97-3835
The windows offer a panoramic view of the ocean. This café has a variety of food menus.
Address: 235-1 Chabana, Yoron-cho, Oshima-gun, Kagoshima
Parking: No parking lot
Business hours: 11:00-23:00, with a break in between
Holiday:Non-scheduled vacations *Holiday during Bon Festival
Telephone number: 0997-97-2722
With fresh fish and an extensive menu of alcoholic beverages, this island izakaya is beloved by the locals.
Address: 2297-1 Chabana, Yoron-cho, Oshima-gun, Kagoshima
Parking: No parking lot
Business hours: 17:00 – 24:00
Holiday: Open irregularly
TEL: 0997-97-3557
○ Beaches
Yurigahama Beach

A pure white sandy beach that appears only at low tide.
Also famous as an Instagram spot.

Minata Coast

This coast is characterized by clear, blue-colored seas.
There are many opportunities to see sea turtles.

Chabana Beach

This is the closest beach to Chabana.
It is reminiscent of Mykonos Island in Greece.
○ Sightseeing Spots
Udonos Beach

It is a very playful spot with gentle waves.
It is famous for beautiful sunsets.

Well Turtle

This is a stone in the shape of a turtle near Yoron Port.
It is a spot that can only be seen from a certain angle.

Akasaki Cave

Yoron Island was originally formed by rising coral reefs.
Visitors can enjoy the art created by nature.